What a Februaryish kind of week it has been!  We have been treated to some stunning glimpses of those good-to-be-alive days in amongst the dismal chill winds that drive me to the fireside. I have lots of crochet things to do, including some paid commissions, which is exciting.  I also have a lot of office work to do….mmmm, later.
I think it must the chilly weather and warming my toes that has led me to thinking about rugs..
If you didn't already know, we are in the throes of building an extension to the house so I am, obviously, planning all the lovely crocheted items that I can fill it with. One of first things that attracted me to crochet was the ability to make large, structural items and I have been meaning to have a go at making crochet storage baskets, rugs and other household bits for ages.  It is modern space full of light and wood so the whole vintage vibe doesn't really work.
Time for a bit of research…
This is fabulous, but I am not sure where I would get cotton rope like that. Nice shoes.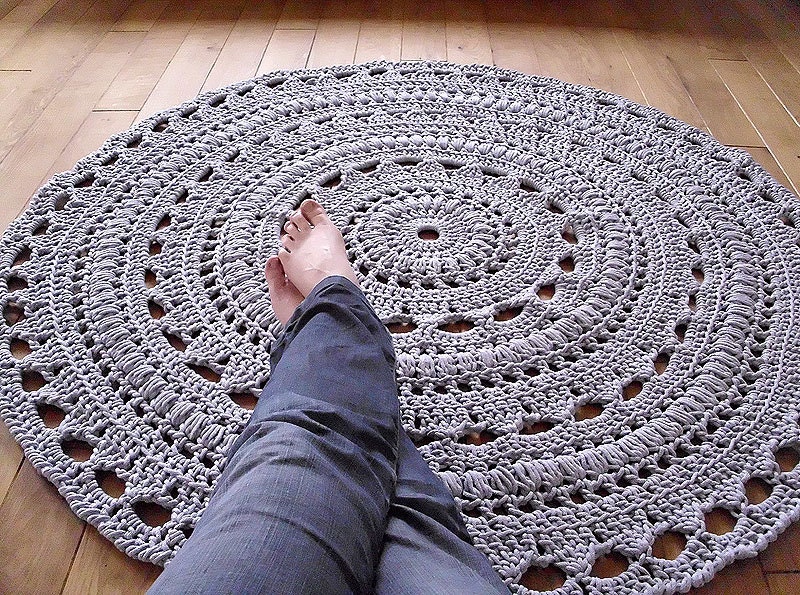 I like this one, and it is in my favourite grey, but I want this for the bathroom and a round rug definitely won't work.
I then got to thinking that I could do something colourful in moss stitch that looks a bit like an indian dhurry.
And then I found this one. This is the one. It is made in that t-shirt sort of yarn and apparently the pattern is in Finnish. Never mind, I think I can figure it out from the picture. Wish me luck!
Those storage baskets in the background will have to wait until another day.